grape_soda
HAPPY VALENTINE'S DAY EVERYONE!
I hope you all have the best one possible! X3 I'm going to be spending mine with my family and watching the Ouran outtakes and playing Silent Hill XDDDD sounds like heaven right now.
Also, I wrote this year's V-Day fic. It's TamaHaru (of course) and it borders on being porny.
click here
to read it.
Sooooo... I've got my hair bleached for my Maria cosplay:
Now I just have to dye the ends and find the material for the skirt and sew it, and make the choker. I already have all the supplies for the choker and belt and I found the top on sale.
But I need to finish my commissions before I plunge into more cosplay work XD thinking back, I should have done an Eileen cosplay before I did anything to my hair XDDDD I look WAY more like Eileen than Maria. I'm not sexy enough to make a convincing Maria OTL but I love her so much. I'm also gonna cosplay Mary (if I can hide my hair's bleached craziness in a bun) and take pics with my Mary and Maria alter egos side by side, and it might be slightly epic. Ha ha ha, it's sad that I actually have the skirt Mary wears without having to go out and buy it. And I don't even dress like that. Best coincidence ever.
ANNNNNND, the Haruhi and Hunny plushies Becca and Val made me are done: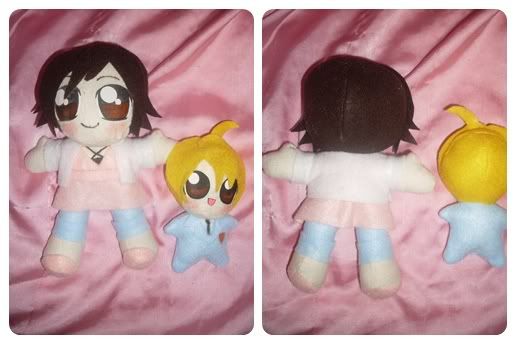 Uwaaaa, they're so cute X3 the Hunny one is for my friend Sammy, so I hope she'll like it. It's the second part of her Xmas present (I'M SO LATE OTL). Haruhi's dress.... uwaaaa it's different colors than in the actual episode but it's so cute.
AAAAAAND, my Eileen (

mother_reborn
) got accepted to

aliunde_rpg
and I'm so excited X3